1

Upload Photo

2

Confirm Design

3

Customization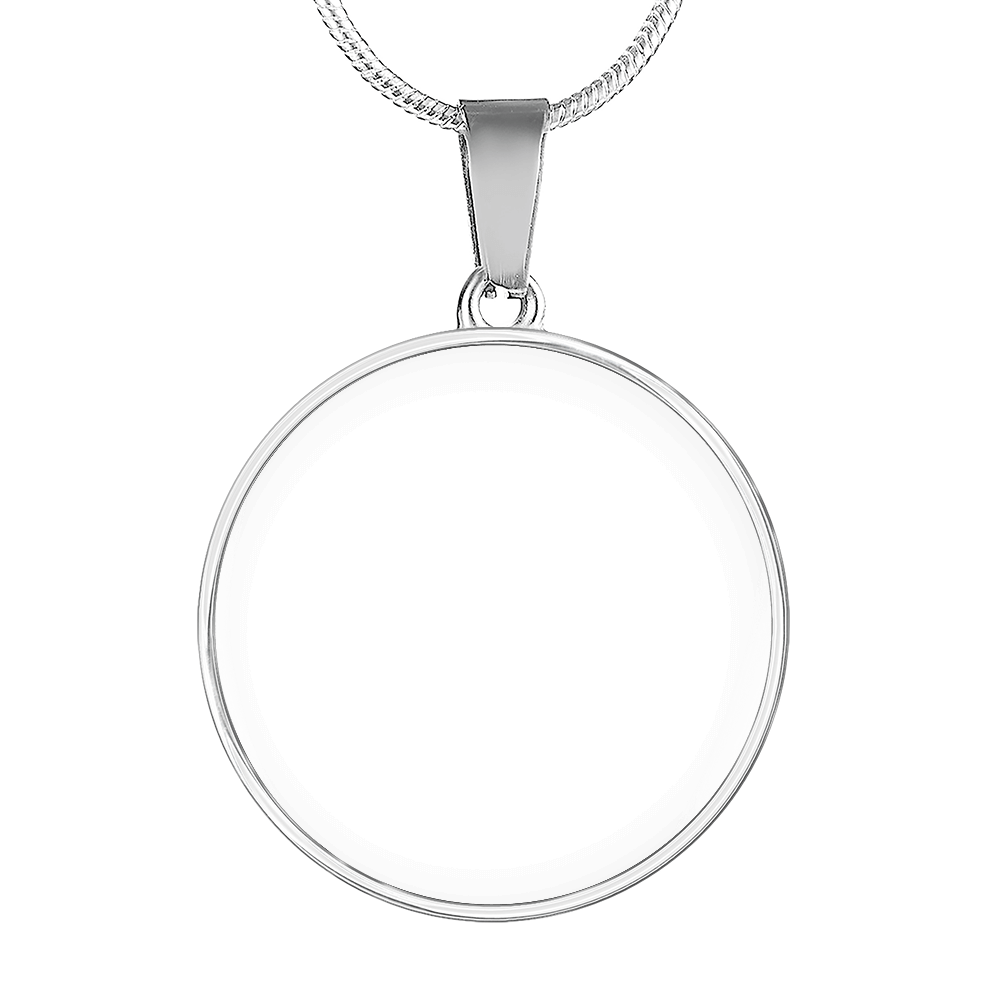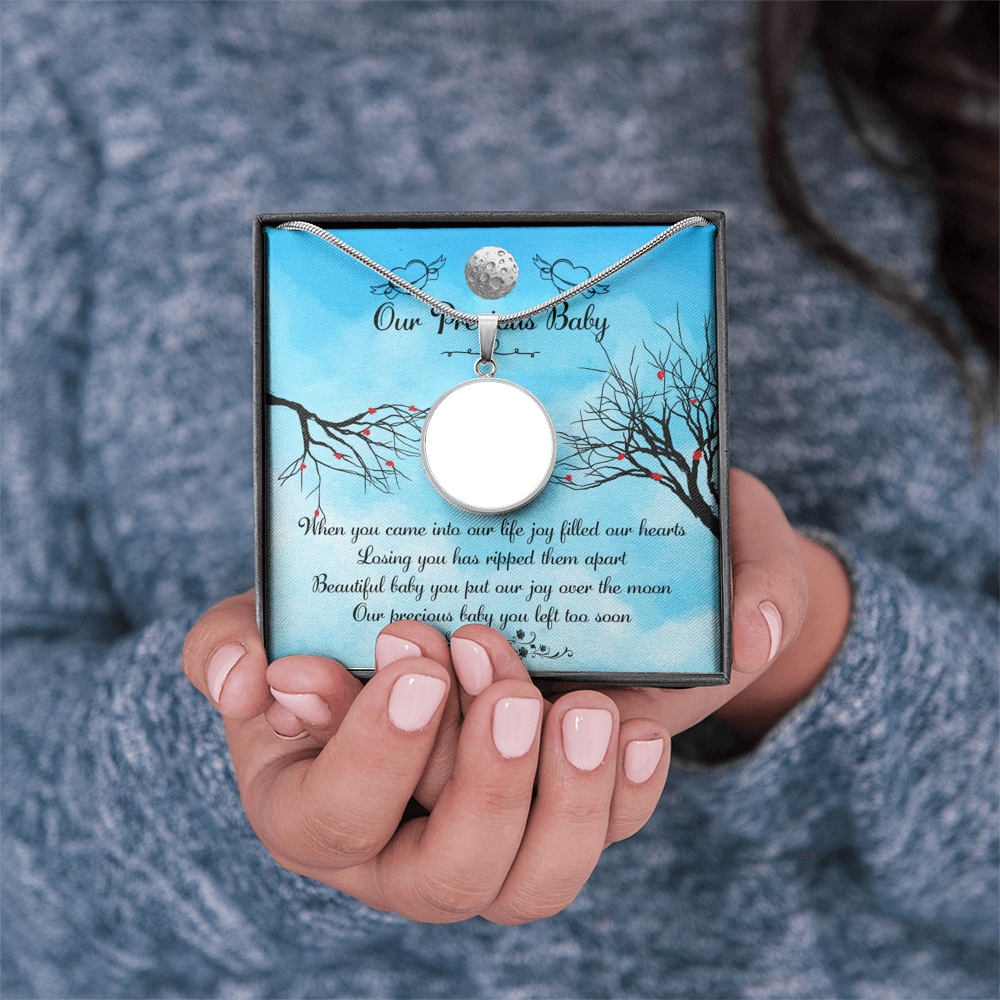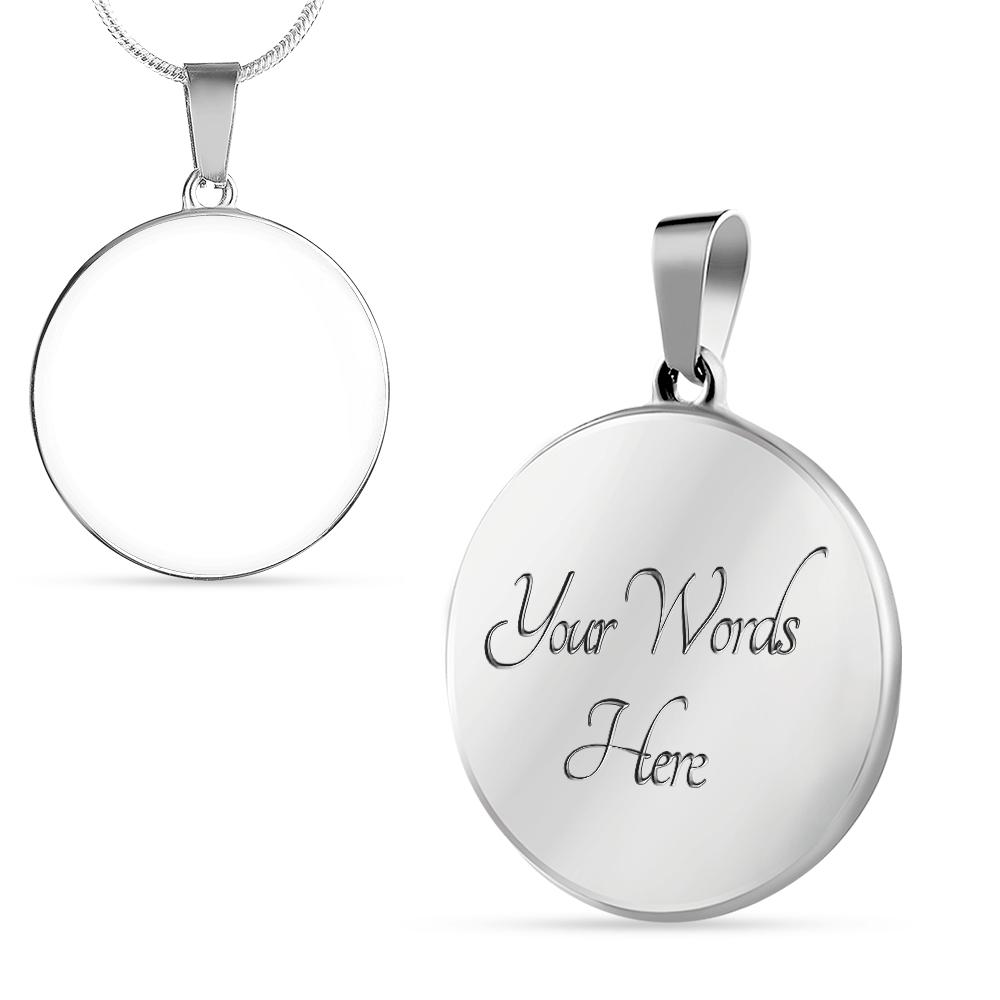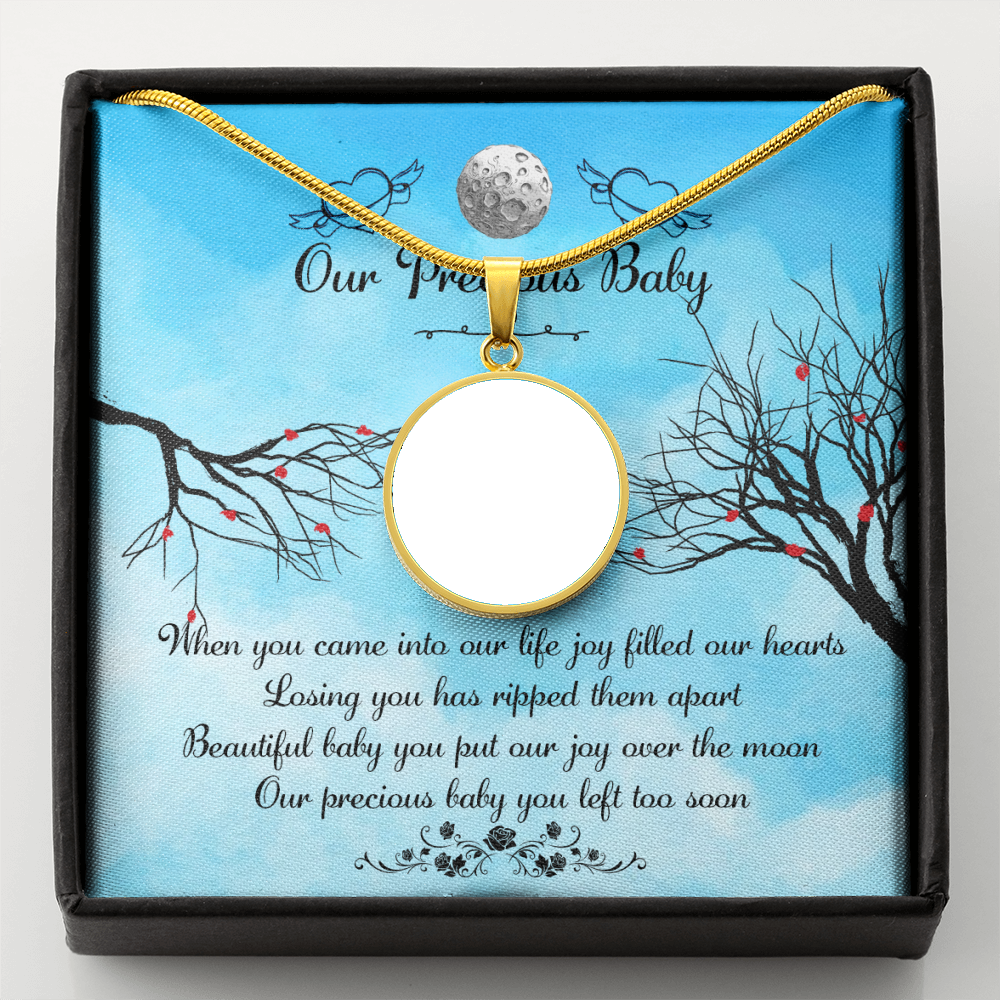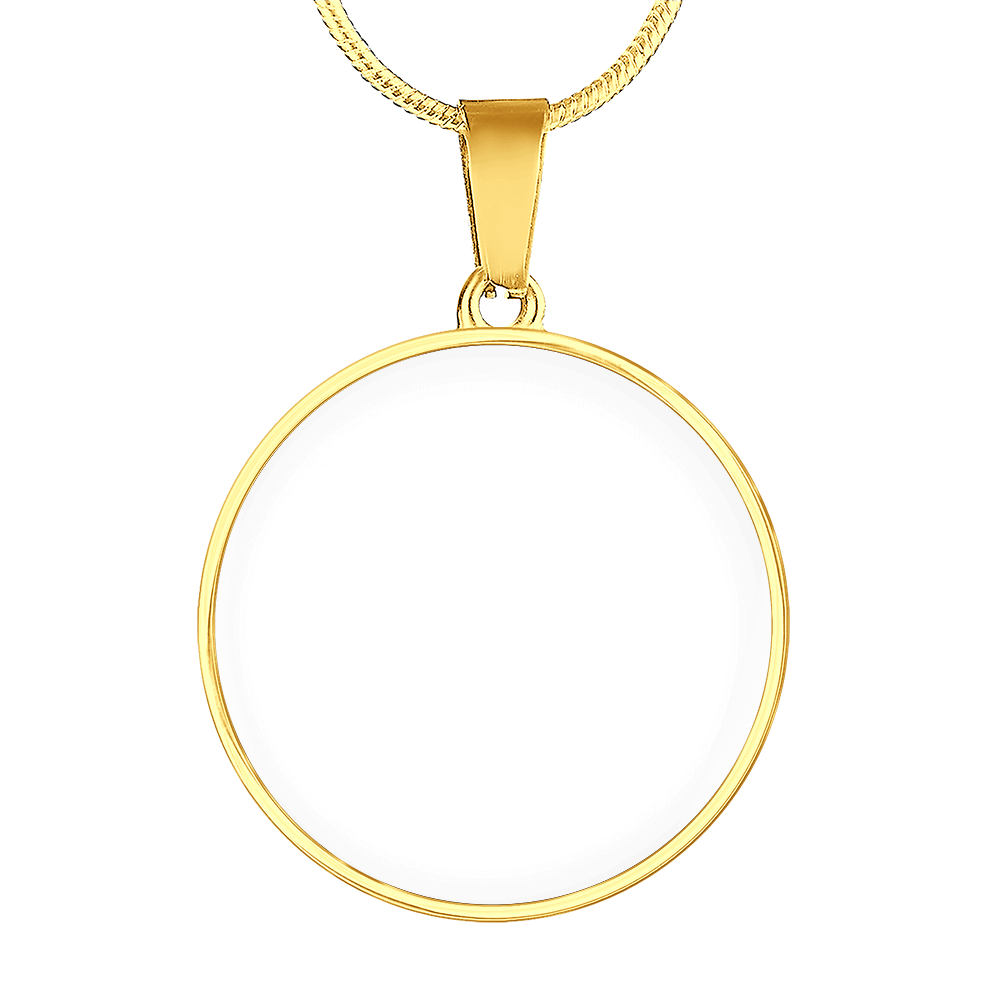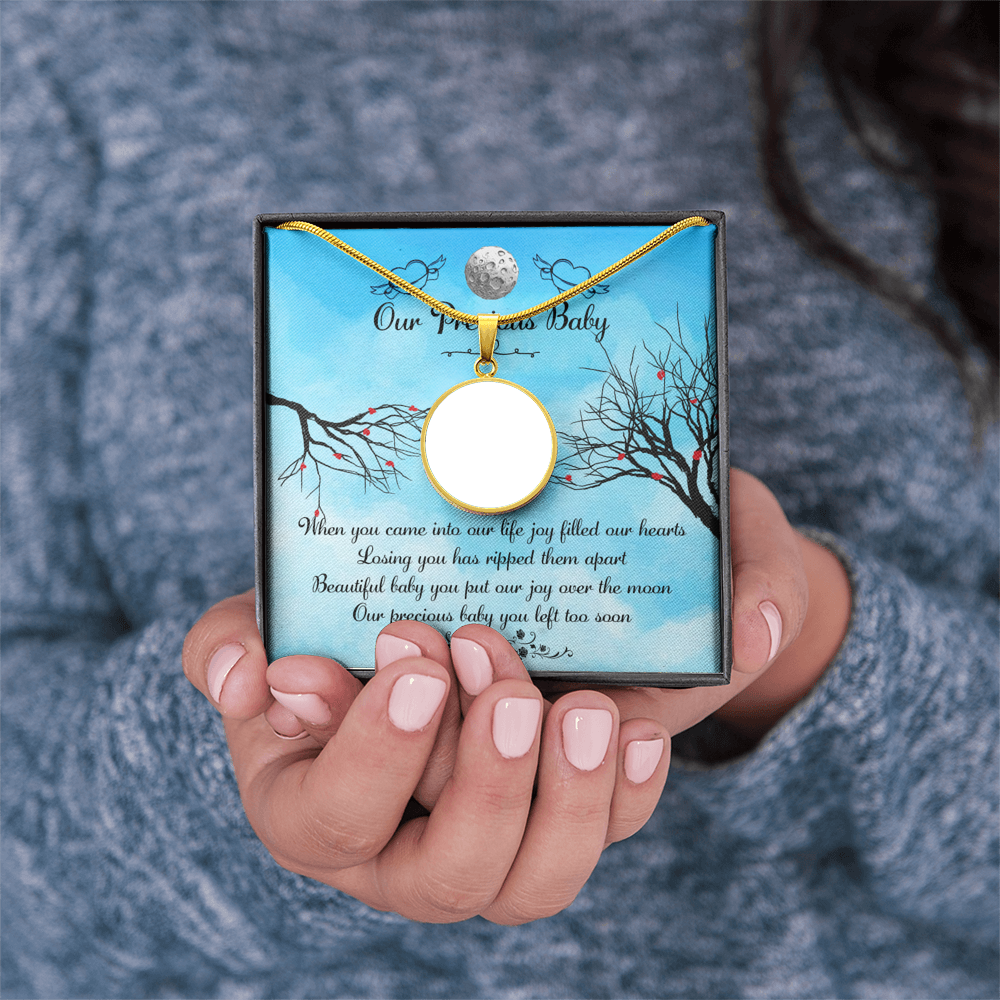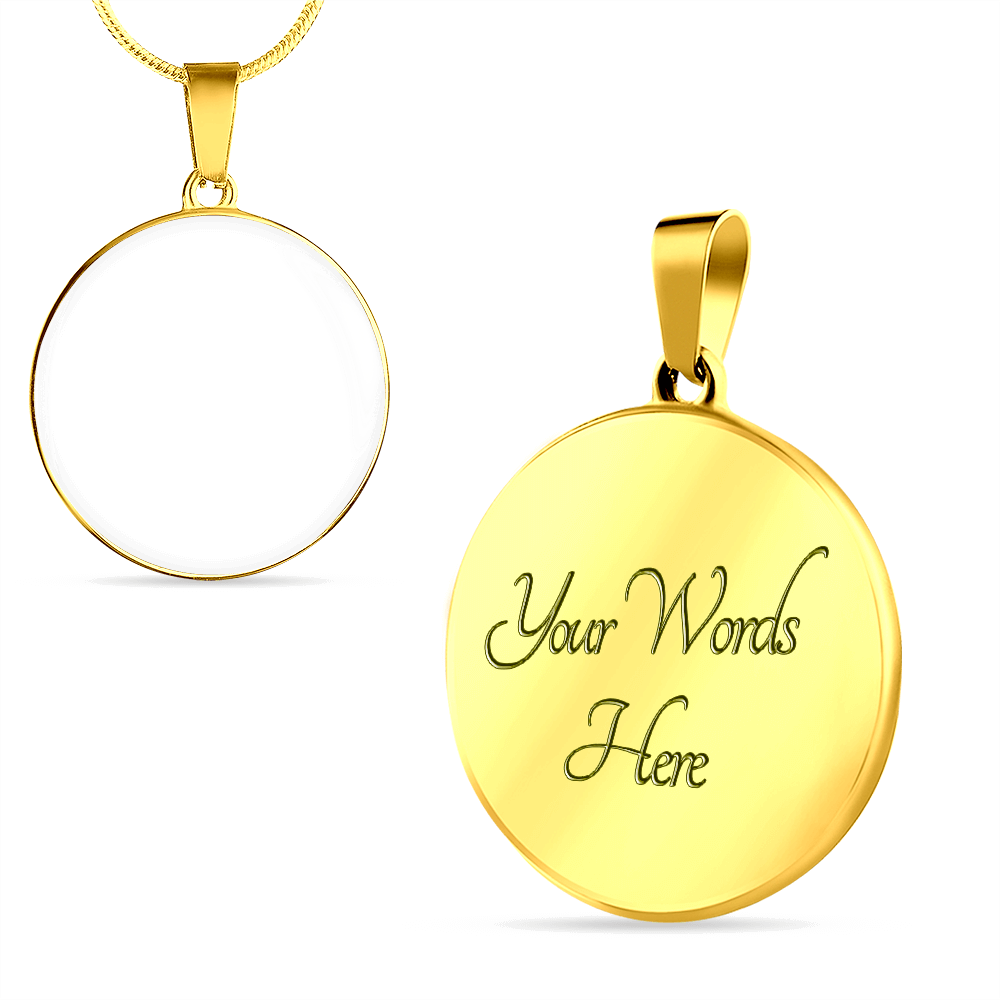 Drag or pinch with fingers to adjust
Introducing our Heartfelt Memories Round Pendant Necklace, a truly special piece designed to honor the precious memory of your baby. This pendant necklace serves as a heartfelt tribute, allowing you to carry a cherished photo close to your heart. Crafted with care, this necklace is available in two stunning finishes, Stainless Steel or Yellow Gold, providing you with a choice that suits your personal style.
The round pendant measures 23.5mm (0.925in) in diameter, creating a delicate and elegant focal point. Its size strikes a perfect balance, making it a subtle yet impactful piece that can be worn daily or for special occasions. The pendant is meticulously customized with the photo of your choice, capturing the essence and beauty of your beloved little one. Each detail is carefully engraved, ensuring a lasting tribute that will endure the test of time.
 The necklace comes with an adjustable chain, allowing you to personalize the length according to your preference and comfort. With options ranging from 18 to 22 inches (45-56cm), you can find the perfect fit to suit your neckline and style. The adjustable feature ensures versatility, allowing you to layer this necklace with other pieces or wear it solo for a more intimate touch.
 Purchase This Best-seller and We Guarantee It Will Exceed Your Highest Expectations!
➜ Our patent-pending jewelry is made of high quality .316 surgical steel with an 18k yellow gold finish option.
➜ Our jewelry is personalized in the U.S.A by awesome working moms just like yours! We hire and train working mothers and pay a living wage. We are proud to support strong communities and keep jobs in America!

We Offer a 100% Happiness Guarantee
➜ If you're not 100% satisfied with your purchase for any reason, please contact us and we will make it right. Your satisfaction is our ultimate goal.

Product Dimensions
➜ Luxury Necklace: 18-22" (45-56cm) adjustable
➜ Circle Pendant: 23.5mm x 23.5mm
Unique, one-of-a-kind gift

NOT SOLD in stores

USA: 2-8 Business Days
Hurry! We Sell Out Frequently
Description
Surprise someone you love with this unique and elegant jewelry item 🎁.
We say "UNIQUE" because each piece is different when you provide your photo.
This hand-crafted piece will never fade and is built to last!
Specifics
Made in Florida and Amsterdam
316 Steel or 18k Gold Finish
Adjustable Necklace Chain Measures 18"-22"
Water-Resistant
Delivery
Each piece is 100% custom hand-made to order in only 3-5 business days!
Hurry! We Sell Out Frequently
Unique, one-of-a-kind gift

NOT SOLD in stores

USA: 2-8 Business Days
Each item is handcrafted and assembled with love just for you and your loved one. Due to this, please allow 2 - 5 business days for your order to ship.
Once shipped, you can expect delivery within:
USA: 2 - 5 Business Days w/ Standard (1 - 3 Business Days w/ Expedited)
Introducing our Heartfelt Memories Round Pendant Necklace, a truly special piece designed to honor the precious memory of your baby. This pendant necklace serves as a heartfelt tribute, allowing you to carry a cherished photo close to your heart. Crafted with care, this necklace is available in two stunning finishes, Stainless Steel or Yellow Gold, providing you with a choice that suits your personal style.

The round pendant measures 23.5mm (0.925in) in diameter, creating a delicate and elegant focal point. Its size strikes a perfect balance, making it a subtle yet impactful piece that can be worn daily or for special occasions. The pendant is meticulously customized with the photo of your choice, capturing the essence and beauty of your beloved little one. Each detail is carefully engraved, ensuring a lasting tribute that will endure the test of time.

 The necklace comes with an adjustable chain, allowing you to personalize the length according to your preference and comfort. With options ranging from 18 to 22 inches (45-56cm), you can find the perfect fit to suit your neckline and style. The adjustable feature ensures versatility, allowing you to layer this necklace with other pieces or wear it solo for a more intimate touch.

 Purchase This Best-seller and We Guarantee It Will Exceed Your Highest Expectations!

➜ Our patent-pending jewelry is made of high quality .316 surgical steel with an 18k yellow gold finish option.
➜ Our jewelry is personalized in the U.S.A by awesome working moms just like yours! We hire and train working mothers and pay a living wage. We are proud to support strong communities and keep jobs in America!

We Offer a 100% Happiness Guarantee
➜ If you're not 100% satisfied with your purchase for any reason, please contact us and we will make it right. Your satisfaction is our ultimate goal.

Product Dimensions
➜ Luxury Necklace: 18-22" (45-56cm) adjustable
➜ Circle Pendant: 23.5mm x 23.5mm

Each item is handcrafted and assembled with love just for you and your loved one. Due to this, please allow 2 - 5 business days for your order to ship.

Once shipped, you can expect delivery within:

USA: 2 - 5 Business Days w/ Standard (1 - 3 Business Days w/ Expedited)
See what people are saying
about us